Just a kid with a past
Trusting Jesus with his future
Singer and songwriter Allan Scott discovered an affinity for music at a young age. He was eleven when his brother started taking guitar lessons.

"I eventually took his guitar and didn't give it back," Allan explained with a laugh.

Much of Allan's early years, however, weren't a laughing matter. Raised in a home that was characterized by his parent's heated arguments, their eventual divorce, and his mother's remarriage which ended with his stepfather being escorted from their house in handcuffs after an incident of domestic abuse, Allan remembers his childhood as one marked by rejection.
Although Allan had heard about God during his childhood and found solace in his growing passion for music, Allan's home life continued to deteriorate during his teen years. He fell into the destructive clutches of drug use, and eventually, he was expelled from his middle school in Pennsylvania. Shortly after, he dropped out of school and ended up running from the police.
"When I got into drugs and alcohol, I sold all of my musical equipment," Allan explained. As his life spiraled further out of control, his musical ambitions slipped away. At his lowest point, he found himself in Dallas, with no place to call home and smoking crystal meth. In desperation, he cried out to God.
God's answer came in an unlikely form: an arrest. It was during his time in jail that Allan's life was radically changed. "It was my nineteenth day in jail, and I remember thinking – I don't have to live like this anymore. At the time I don't think that I even knew how desperate my situation was, but God answered my prayer for help. From that point forward, He gave me the desire to change. In Psalms it says, 'I am close to the brokenhearted, I save those who are crushed in spirit.' He set me free, forgave me, and gave me a new life."
As his heart and mind were transformed, Allan's dreams of playing music were awakened once again. "One day, while still in prison, I began to hear these songs in my head," Allan explained. He rapidly wrote lyric after lyric of the songs the Lord placed on his heart. When he was released from jail at age 22, Allan knew he had to pursue his newly reignited passion for music. As described in his testimony that was featured on CBN's The 700 Club, this encounter with Christ radically changed his life.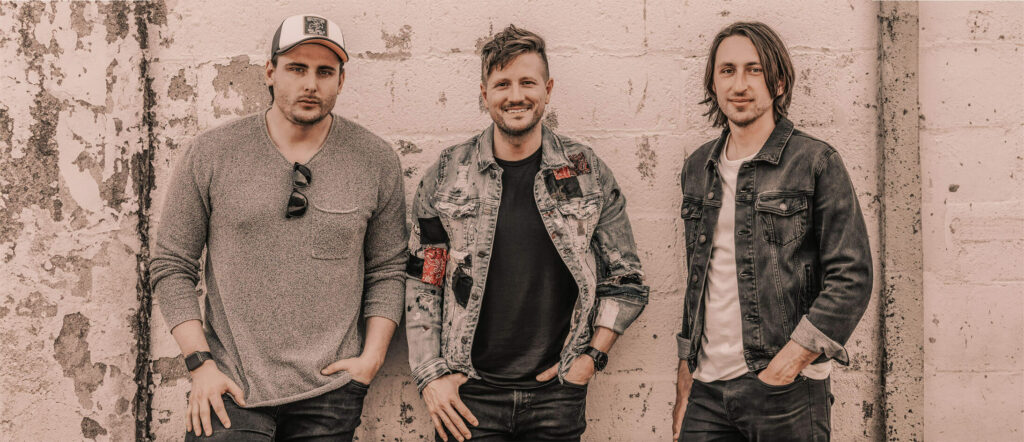 Matthew Wolf: Lead Guitar
Allan Scott: Lead Vocals & Guitar
Connor Williams: Bass
Allan began to lead worship at his local church and minister through music at youth and campus events. In 2006, he married Jana, a beautiful woman who also had been set free from a destructive lifestyle.
Former drug addict, dropout, thief and loser Allan Scott found hope in his jail cell, calling on God to heal the broken pieces of his life. Over two decades later, this redeemed singer & songwriter shares his experience in song: the truth that Jesus can turn ANY mess into a message.
The latest full-length album from Allan is the redemptive, hopeful "The Story" which released July 24th, 2019 at all digital retail outlets.
In 2021, the band created and launched The Story Tour, a 2.5 hour event featuring stories of freedom from addiction, stories of broken marriages restored, stories of suicides arrested and more. "The Story Tour is a night designed specifically for the addicted and struggling; we want to see a revival in the lives of hurting people. I feel like we are seeing God move. We've heard many, many stories of people stopping self harm, or getting checked into drug rehabs, or marriages that were healed because God moved while someone was at one of these events. It's so powerful to watch.", says band frontman and Story Tour creator Allan Scott. Since fall of 2021, The Story Tour has visited 28 cities covering over 10,000 miles in the northeast United States. At every event, people stream to the altars to give their hearts to Christ. The tour currently has 24 stops scheduled for the Fall of 23. Get the full schedule of events here.
Allan has ministered alongside artists such as Building 429, Citizen Way, 7eventh Time Down, JJ Weeks Band, Paul Baloche, Kari Jobe, David Crowder, Big Daddy Weave, Jason Crabb, John Waller, Plumb, John Tibbs, Anthem Lights, Abandon & David Dunn. He has also been featured in the 200th Episode of Focus on the Family's Plugged in Podcast, CCM Magazine, Worship with Andy Chrisman, The Harvest TV Show and internationally on TBN's "Praise the Lord"  and  CBN's "The 700 Club" television programs. In 2012, 2013 & 2017 Allan led campus-wide worship events at Andrew Wommack Ministries International/Charis Bible College in Colorado Springs, CO. Allan Scott Band has appeared main-stage at festivals across the country including Creation NorthEast. In 2018-2019, the band was featured nationally on the Born to Be Brave Tour, a one night father & son connecting event from best-selling author and creator of True Girl, Dannah Gresh.